Mine Field by Evoplay Free Play & Review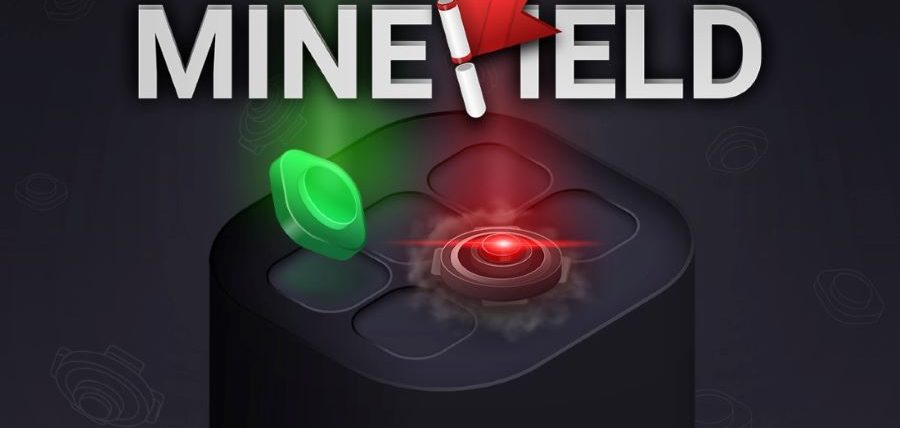 Play This Game for
Real Money
Game Facts
Software provider
Evoplay Entertainment
Where to Play Mine Field?
Mine Field Provably Fair Game Review
If you'd like to up the ante of your battlefield strategies, Evoplay's arcade-themed game, MineField, is a perfect choice. It's an illuminative upgrade of the classic game, Minesweeper, with excellent graphics and a superb game interface. Notably, both games have similar rules. Hence, those familiar with Minesweeper will find Mine Field effortless to play.
However, if you want to try this enthralling game for the first time, you're in the right spot. The game is elementary, fun, and with easy-to-understand rules. We'll guide you on playing the game and the game features and suggest handy tips to help you win. In a nutshell, your objective is to choose blocks without a mine as you advance through the field.
How to Play Mine Filed
As it's with most of Evoplay's titles, you'll figure out playing MineField pretty quickly. With that in mind, there are the playing steps:
Select Your Desired Field Size and Bet Amount
The game has various field sizes (2×3, 3×6, 4×9, 5×12, and 6×15). Also, the minimum and maximum bet amounts are $1 and $100. You can use the (+) and (-) functions to adjust your bet amount.
Click Start
Choose one block or square. Alternatively, you can click the Random function to select any block randomly. If you choose a safe block, you'll win depending on the field's size multipliers and advance along the field. If you select a square with a mine, you lose your bet and start over.
Auto – Play Mode
Minefield doesn't have an auto-play feature. Instead, it has a "Random" feature that spontaneously chooses a square when you click it. What's even more captivating is that you collect your winnings anytime you play. However, if you wait till the end, you're sure to earn more spectacular rewards.
Mine Field Multipliers
Mine Field has different multipliers ranging from 1.15x up to 14.79x. However, you'll have different multipliers depending on the size of the field. If you choose a smaller field size, the risk of losing your bet (choosing the wrong block) is high, but the reward is even higher. On the other hand, the risk is less with larger field sizes, but the journey is longer with lower multipliers.
The multipliers are indicated at the top of each column. Remember, you're advancing through the field from left to right. The further you go, the more lucrative the rewards.
RTP
Mine Field has a 95.83% – 96.26% Return to Player (RTP) percentage. The average amount you can expect to win after playing for a long time is between $95.83 and $96.26.
That's a working example assuming you staked a total of $100 during that session. The RTP percentage of the game varies due to the different in-game field sizes. Smaller fields have a higher RTP than larger fields.
How Much Can You Win?
Mine Field offers different multipliers, bet amounts, and field sizes. Therefore, the amount you can win depends on these three variables. The highest multiplier is 14.79x and is found in the largest field.
Assuming you're playing with the maximum amount, $100, and you manage to reach the last column block, your max win would be $1,479 (100×14.79). However, you'd have accumulated more than that before getting the highest multiplier. So, the total is bound to increase exponentially.
House Edge for Mine Field
Using the game's RTP, we can determine the casino's house edge in Mine Field. The RTP ranges between 95.83% and 96.26%. Quite the opposite of RTP, the amount you're certain to lose while playing Mine Field is the casino's house edge or advantage. In regard, the game's house edge ranges between 4.17% and 3.74% depending on your selected field size.
How Does Provably Fair Technology Work?
Technological leaps in the iGaming space have enabled players to eliminate the fear of casinos running rigged games. The provably fair technology is the innovation behind it all. It's an algorithm that interacts with multiple variables to provide much-needed transparency to game outcomes. With this invention, players can authenticate the fairness of their payouts and results.
Does Mine Field Support Provably Fair Technology?
Mine Field supports this technology, meaning you can verify all your outcomes. The big question is, how does it operate? It uses three variables, the client seed, server seed, and cryptographic nonce. Your casino provides the server seed, while your browser supplies the client seed.
So, before clicking "Start" in Mine Field, you'll get a server seed and client seed. The server seed has all game outcomes and is hashed, meaning no one can decrypt it. The client seed is randomly-created, and you should change it. Therefore, the client and server seeds will interact to determine the game's outcome.
The cryptographic nonce is a record of all the bets you have made, and it helps you choose which event you want to verify. Finally, you'll receive the unhashed client seed to prove the game's fairness.
How to Check Game Fairness?
Since MineField is a provably fair casino game, confirming its fairness is simple! Simply click the "Hash" function above the rules icon to validate your last result. That will copy the validation string. Alternatively, if you'd like to verify any other preceding outcomes, you can visit the game's "History" section.
Find a specific outcome you'd like to verify and click on the "Info" icon. Next, copy the "Validation String" and find a free hash generator online. Finally, paste the details in your hash generator's "Data" field and click "Generate." If the hash code you receive corresponds to the one you have, the result is fair.
What are the Best Provably Fair Casinos?
Our experts have made a list of the best provably fair casinos. Filter the casino sites by game provider, cryptocurrency or game type and select the best one for you.
Mine Field Strategies
You already know how to play. So, how can you win? MineField is a game of chance, and all results are random, meaning there's no foolproof winning method. Nevertheless, you can try maximizing your winning streak with these tips:
Tip 1: Choosing a Field Size
Deciding on what field size to use is of utmost importance. While it's still up to personal preferences, we'd advise more regular players to use the smaller fields. That's because the rewards are high, despite the risk being more elevated. With smaller squares, the journey is shorter, meaning if you're lucky, you'll finish quickly and earn greater rewards.
If you're a beginner, we'd recommend using larger field sizes since you're learning the game and your chances of winning are higher. However, the journey to the end, where multipliers are higher, will be longer. Therefore, as you advance and master the game, you can reduce the field sizes to suit your bet limit and gaming prowess.
Tip 2: Start with Lower Bets
We recommend reducing your bet limit at the beginning of your session. That will allow you to play for a more extended period. Also, the advantage of placing low bets is that it helps manage your bankroll while learning the hit sequence.
You can increase your bets gradually as you garner confidence playing MineField. It's a guessing game, and if you have a good streak of guesses, you can make great money while still betting low.
Tip 3: Play for Free
You'll find most platforms allowing you to play MineField for free in this day and age. You can use that opportunity to learn the basic game rules and how to play with the various field sizes. The "Free Play" version of MineField is very similar to the actual game.
The only difference is that you're using virtual money. Later, you can deposit funds at a licensed online casino and play using actual funds.
Do We Recommend MineField?
Undoubtedly, yes. It's a simple-to-play instant win game promising raw entertainment to players. You can choose your preferred field size, which is a fantastic feature as it accommodates all types of players. The fast gameplay offered by smaller fields is a delight to quick-strategy players.
The larger fields are more befitting if you like taking your time to calculate your strategies accurately. Lastly, you can play MineField on all devices while enjoying the same sleek and rewarding experience.
Players Favorite Mine Field Casino
Start Playing today by following the "Play" Button below
Welcome bonus
150% up to €2000 Welcome Offer
Play