Epic Gladiator Slot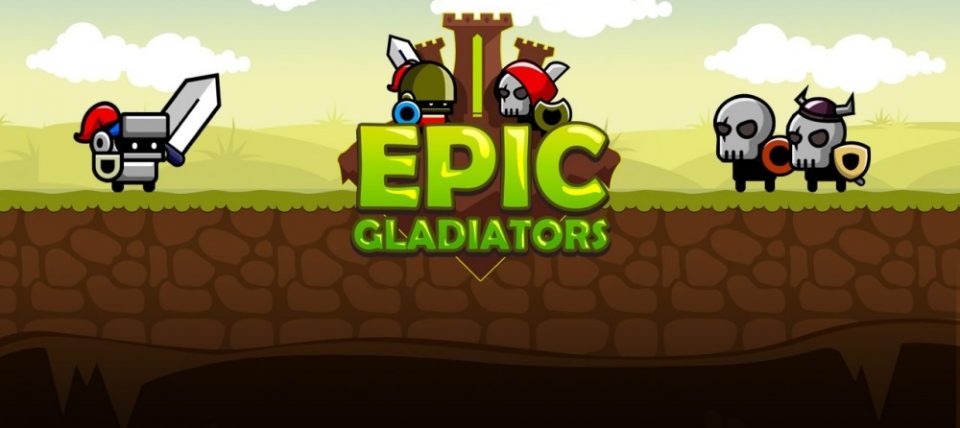 Play This Game for
Real Money
Game Facts
Software provider
Evoplay Entertainment
Best Casinos to Play Epic Gladiator Slot
Epic Gladiators Slot Overview
Do you have the guts to explore the wastelands and take on masked bandits in Evoplay's Epic Gladiators slot? If so, then this is the slot for you. Try to match symbols whilst simultaneously battling gladiators to access several features available in this game that takes place on a 7×7 grid. Come forward brave adventurer, if you dare.
Epic Gladiators Slot RTP, Volatility and Top Win
RTP
The RTP for Evoplay's Epic Gladiators is average at 95.68%, it shows that the risk is no higher than most popular slots you'll find online at crypto casinos with an expected return of £95.68 for every £100 wagered. Keep in mind, nonetheless, that there is always a risk and this kind of return isn't guaranteed.
Volatility
The volatility of this slot game is on the lower end of the high category, meaning there are games out there that have higher volatility. However, Epic Gladiators is still more volatile than most. This kind of volatility means that payouts don't come often, but when they do, they tend to pay out more.
Top Win
The maximum possible win is £99,600, but this depends on how much you bet per spin. As for individual paying symbols, here's a breakdown of how they pay out:
Epic Gladiators Slot Winning Symbols
| | | | | | | | | | |
| --- | --- | --- | --- | --- | --- | --- | --- | --- | --- |
| Symbols | Match Five | Match Six | Match Seven | Match Eight | Match Nine | Match Ten | Match 11-12 | Match 13-14 | Match 15+ |
| Rock | 0.2x | 0.7x | 2x | 6x | 12x | 20x | 50x | 75x | 100x |
| Water Drops | 0.3x | 0.8x | 2.5x | 7.5x | 15x | 25x | 60x | 90x | 120x |
| Cloud | 0.4x | 1x | 3x | 9x | 18x | 30x | 75x | 100x | 150x |
| Fire | 0.7x | 1.5x | 4x | 12x | 25x | 50x | 120x | 200x | 250x |
| Helmet | 0.8x | 2x | 6x | 20x | 40x | 60x | 150x | 250x | 300x |
| Shield | 1x | 3x | 9x | 25x | 50x | 70x | 200x | 300x | 500x |
| Sword | 1.2x | 4x | 12x | 37.5x | 75x | 120x | 300x | 500x | 700x |
| Gold Coin | 2x | 8x | 25x | 75x | 150x | 200x | 500x | 700x | 800x |
How to play?
Unlike a traditional slot where you match symbols along win lines across the reels, Epic Gladiators is more of a 'match-three' type game that you commonly find on mobile phones. The idea is that you have five or more symbols land next to each other in any shape in order to trigger a win. There is a wild symbol that will substitute for all other symbols.
Once a matching set of symbols are found, they disappear and the remaining symbols cascade down with new ones filling in the empty spaces. This allows for multiple wins from a single spin. If you are able to trigger three wins in a row, then this will trigger a free spin round. Multiple wins in the same spin do not count though it has to be three wins in three consecutive spins.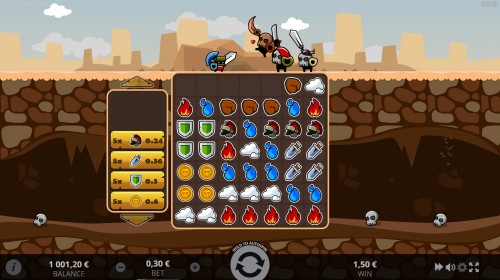 Free Spins
As mentioned above, the main feature of this game is a free spin round. Free spins are activated by defeating enemies, with attacks on enemies launched by completing a win on each spin. This is shown on a little animation above the grid in which you can see the enemy's health points drop each time they are hit.
If a chain of wins stops before the enemy is defeated, their health resets. Killing the enemy will result in free spins, with ten awarded for one kill, 15 for two kills and 20 for three kills.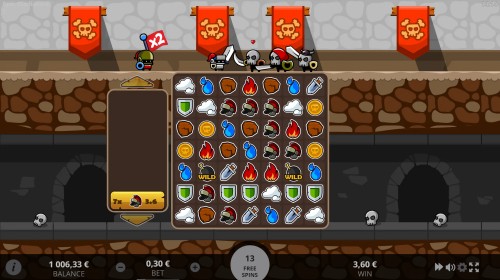 Wild Symbol
When free spins activate, you will select one of three bonuses, which include:
Wild Crixus: Three random symbols are replaced with wilds after each spin, with one extra symbol changed for every enemy defeated during free spins.
Maximus: Starts free spins with a 2x multiplier, and increases by one for every enemy defeated.
Spintacus: Two random symbols will swap positions to either create or increase a winning combination. For every enemy defeated, an additional symbol will swap places.
Graphics and Soundtracks
This immersive game is a cartoon-inspired, gladiator adventure, with a number of themed symbols and a captivating little animation that shows a gladiator battling it out with masked bandits above the grid.
The Epic Gladiators soundtrack is very fitting and feels like the perfect melody to have in the background. It's the kind of jingle that you expect to hear in a video game or movie where you're about to start out on your adventure.
In Summary
Whilst its high volatility may put some players off, Epic Gladiators offers an excellent choice of features that could very well convince people to give it a go. The detail in the animations and its soundtrack create an atmosphere in this game that makes it more fun to play, and its unique play style as opposed to traditional slots makes for a fresh change.
Best Online Casino with Epic Gladiator Slot
Don't forget to claim the welcome bonus on sign-up
Welcome bonus
150% up to €2000 Welcome Offer
Play