Top 5 Gambling Movies
Gambling has been a recurring topic in many works of art throughout the centuries. Books, stories, paintings, and even songs have depicted the theme. Gambling has been a favorite pastime activity for centuries. Evidence of gambling activities was found as far back as the Roman Empire. That is why it is no wonder modern cinema also treats the casino theme with great interest. In the article below, we explore the most popular gambling movies from the past few decades. Check out our list and make sure to watch these cinematographic masterpieces.
#5 – Croupier (2000)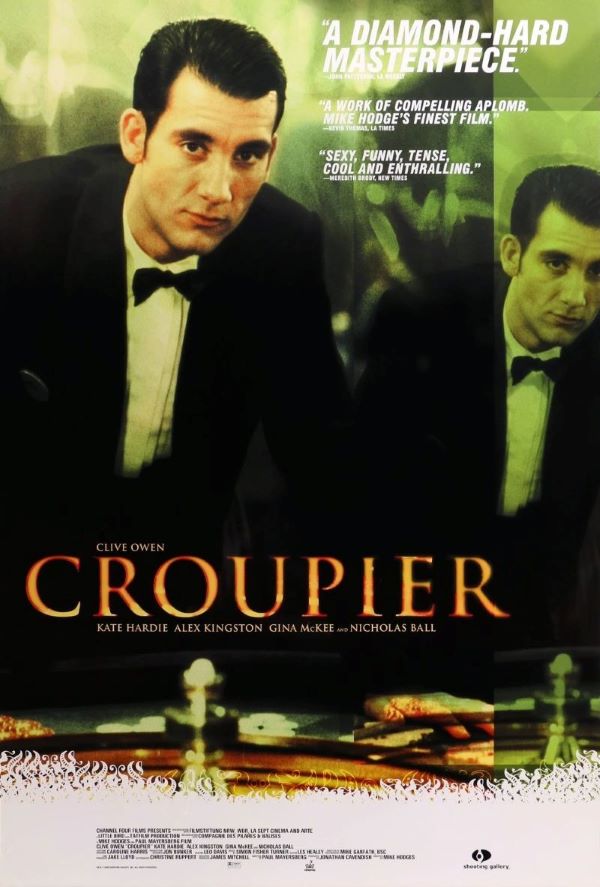 You know Clive Owen, right? What you might not know, however, is that this famous actor's career really took off thanks to him starring in the gambling movie Croupier. Directed by Mike Hodges, this neo-noir detective film became very popular because of the interesting plot and the fascinating monologues and dialogues.
Croupier follows the misfortunate experiences of Jack Manfred, a struggling writer. In an attempt to help his son make ends meet, Jack's father sets him up to start a job as a croupier at a local casino.
Jack seems to enjoy his newly found vocation and continues to pursue a writing career in the meantime. However, he soon gets into a series of dangerous situations. Jack becomes a friend of a fellow croupier who once outsmarted the casino. He also cheats on his girlfriend with a co-worker. Eventually, he lets himself get fooled into entering a plan to rob the casino.
As the plot twists in the most unexpected ways, Jack continues to write his book. He even bases the main character on himself only to reveal a few unpleasant personality traits. But how will it all end for Jack? Will he get out of the mess? Watch the movie to find out! You will surely remain surprised at the end.
#2 – The Gambler (2014)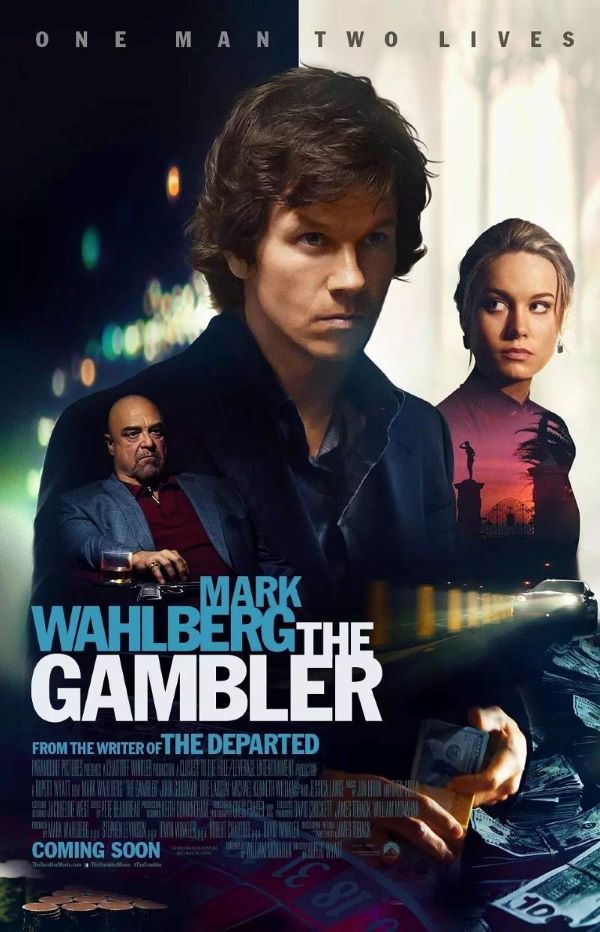 If you are into crime drama and you are interested in casino games, The Gambler might just live up to your taste. The American movie directed by Rupert Wyatt is actually a remake of the original film of the same name released in 1974. The 2014 version stars Mark Wahlberg. It is interesting to note that both movies are remotely based on Fyodor Dostoyevsky's namesake novel.
Wahlberg plays the leading part of Jim Bennett, an LA literature professor, who is also a compulsive gambler. Bennett denies the fact that he has a gambling problem in front of himself. Rather, he justifies his casino passion with the constant existential search depicted in many of the literary works he teaches. To make things even worse, Bennett starts an affair with one of his students, Amy, who works night shifts as a casino cocktail waitress.
Eventually, the literature professor falls into huge debt. Two mighty casino sharks threaten to kill him unless he pays them back within seven days. This is where the big adventure begins. Wahlberg and Amy devise a series of clever schemes to get out of trouble and indeed manage to play the gambling mobsters for some time. However, will their ingenious plan succeed? Is the literature professor doomed and will his love for Amy last? Check out the movie to learn the story of the Gambler.
#3 – Casino (1995)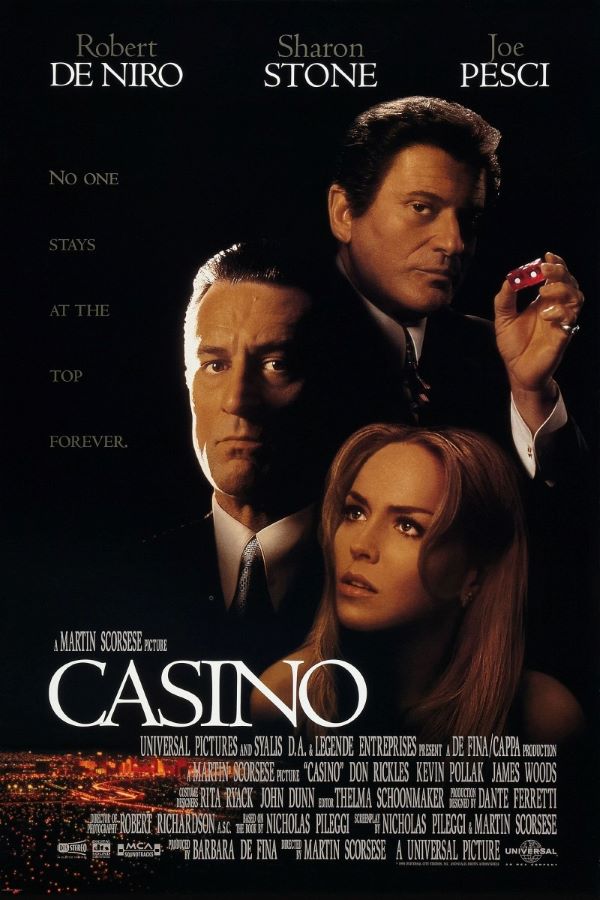 Directed by the legendary Martin Scorsese and produced by Barbara De Fina, the blockbuster Casino is yet another gambling masterpiece based on a book. The filmmakers derived the script from Nicholas Pileggi's non-fiction literary work called Casino: Love and Honor in Las Vegas.
The movie's cast includes a myriad of stars. Robert De Niro, Sharon Stone, Kevin Pollak, Don Rickles, and James Woods all make brilliant appearances in this engaging film.
The plot follows the story of Sam "Ace" Rothstein (Robert De Niro), who is a sports handicapper entangled with the mafia. A Chicago group of mobsters appoints Sam to oversee the Tangiers Casino in Las Vegas. He does a brilliant job, and the gambling establishment quickly raises its profits.
While initially, everything appears to go just as planned, Sam's life unexpectedly turns upside down. His mafia bosses send his childhood friend Nicky to protect him. However, Nicky has a lot of criminal activity going on the side, which attracts the attention of the FBI. In addition, Sam's wife Ginger (Sharon Stone) causes him much trouble by developing an alcohol and drug addiction and keeping up her relationship with her former boyfriend. If you are curious to find out how Sam deals with all these challenges, make sure to watch Casino.
#2 – Rain Man (1988)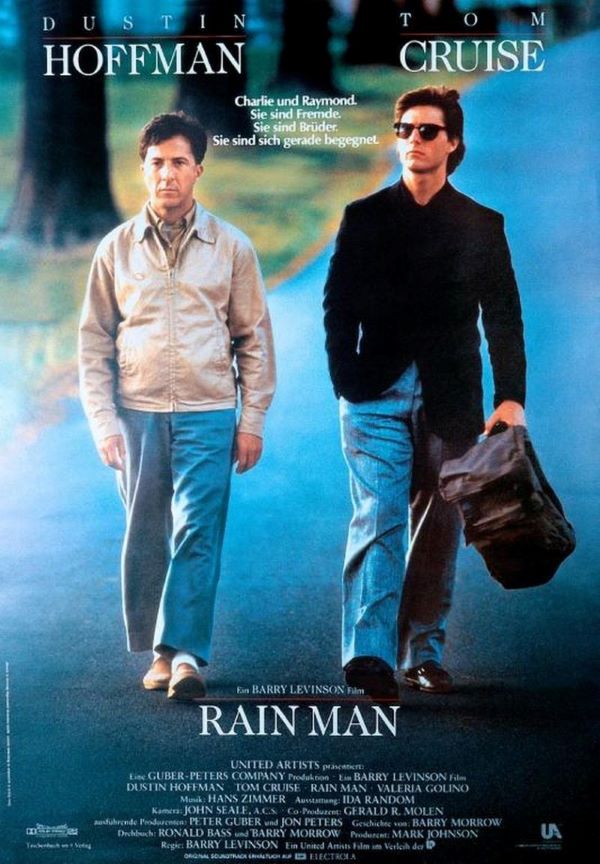 Rain Man is a 1988 American classic starring Tom Cruise and Dustin Hoffman. Directed by Barry Levinson, Rain Man is a movie that deeply touches the soul. It explores human nature much more intensely than it does the casino theme, but there is a good deal of gambling you can enjoy as well.
In short, Rain Man tells the story of two brothers – collectibles dealer Charlie Babbitt (Tom Cruise) and his autistic brother Raymond (Dustin Hoffman). Charlie's girlfriend, Susanna, also plays a major part.
To give you a brief overview of the plot, Charlie gets into trouble with his rich clients when four Lamborghinis he intended to sell to them get held by the EPA. In the meantime, his estranged father dies, leaving him with only a bunch of rose bushes and a vintage car. The rest of his multi-million estate is bequeathed to Charlie's elder brother, Raymond. Raymond is an autist who has been placed in a medical facility. As Charlie meets Raymond, the two of them embark on the greatest adventure of their lives, which – among other things – involves some serious casino action. Do not miss this heart-melting drama!
#1 – Ocean's 11 (2001)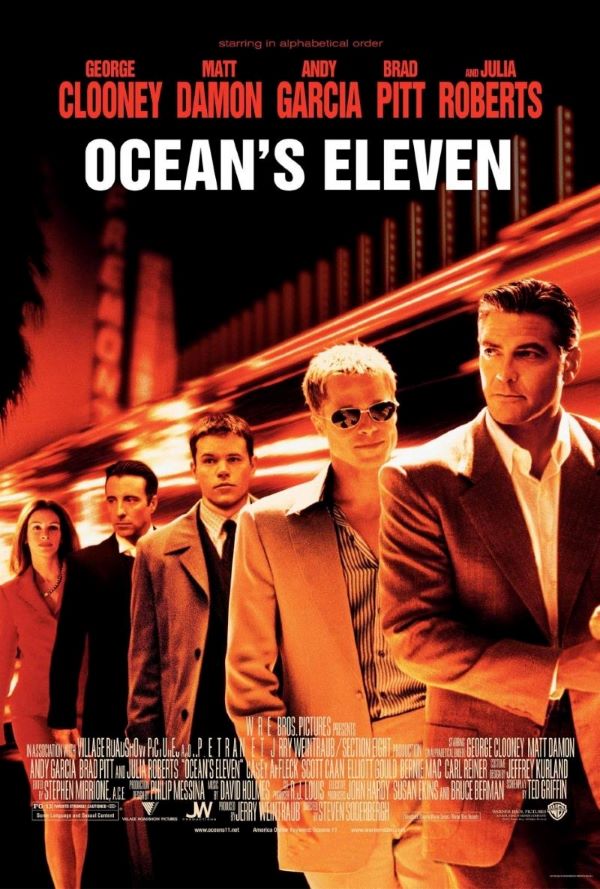 The US heist comedy movie Ocean 11 gathered a myriad of film stars like George Clooney, Brad Pitt, Matt Damon, Don Cheadle, Andy García, Bernie Mac, and Julia Roberts for a box office hit. Directed by Steven Soderbergh, the film exploits the adventures of friends Danny Ocean (George Clooney) and Rusty Ryan (Brad Pitt). The two of them plan to rob the casino of Terry Benedict (Andy Garcia), who was previously involved with Ocean's former wife, Tess (Julia Roberts).
We will not tell you more about the plot. However, we'll only mention that Ocean's 11 ranked the fifth highest-grossing film of 2001. Its global gross reached $450 million. The movie was such a success that Soderbergh directed two more sequels, Ocean's Twelve in 2004 and Ocean's Thirteen in 2007. There is also an all-female cast spin-off called Ocean's 8, which hit the box office in 2018. We can't tell which of the Ocean movies is the best, so we recommend you watch them all and decide for yourself!
In Conclusion
As you can see, there are quite a few great choices if you feel like watching a gambling film. Star actors, great directors, amazing settings, and engaging plots – these casino blockbusters offer the entire package. So, grab some popcorn and a soda and have fun with the best gambling movies!
For those seeking further entertainment, check out the aviator game – the most innovative crypto casino game that players from all around the world love.