Various research has shown that cryptocurrencies are only about to boom in the upcoming years. A growing number of businesses and entire industries are starting to adopt blockchain and crypto, so we have every right to believe we are witnessing a true financial revolution. Also check out our infographic on the 17 crazy facts about bitcoin.
Key Cryptocurrency Statistics
Between 2015 and 2023, Bitcoin price increased with 10,000%
More than 300 million people in the world use bitcoin
65% of crypto owners worldwide have bitcoin
There are more than 12,000 of cryptocurrencies in 2023
The complete amount of Bitcoin that exists is 21 million
The total cryptocurrency value in 2021 is $2,43 trillion
USA is the biggest crypto mining country in the world
India has 100 million crypto currency owners – more than any other country
El Salvador is the only country that adopted bitcoin
Bitcoin mining generates 71,98 Mt CO2, comparable to the carbon footprint of Greece
17 Crazy Facts about Bitcoin
Check out our infographic about insane bitcoin facts you probably don't know:

Cryptocurrency Users
How many crypto currency users are there? Recent studies show that there are 300+ Million crypto users in the world, representing 3,8% of world's population. Companies accepting bitcoin payments grow to more than 18,000 in 2021.
Investors of All Ages
A total of 55% of all 18- to 35-year-olds in the US state they are willing to invest in Bitcoin over the next five years. The same goes for 46% of adults aged between 36 to 44 years and 36% of those ages 45 to 54.
Cryptocurrency is most popular with young adults
31% of people ages 18 to 29
21% of people ages 30 to 49,
8% of people ages 50 to 64 and
3% of people age 65 or over
According to Forbes, 43% Of U.S. Males Aged 18 To 29 Have Bought The Currency. Income status does not appear to have any effect on cryptocurrency use by different age groups.
Crypto Users Key Facts
| | |
| --- | --- |
| Bitcoin Wallets | 200,000,000* |
| Daily Bitcoin Transactions | 270,000 |
| Bitcoin Traders | 53 Million |
| People using crypto currencies in 2021 | 300+ Million |
| Americans that own bitcoin | 22% |
| BTC addresses with balance > 0.00 BTC | 460 Million |
| % of world population holding BTC | 3,8% |
| Companies accepting crypto payments | 18,000+ |
*Estimated from summarizing the data from various ressources. For example Blockchain.com alone reports 83 Million wallets in July 2022.
Most Popular Cryptocurrency
Bitcoin is by far the most popular cryptocurrency. Research shows that its price has increased by more than 540,000% between 2012 and 2021. Tether was the cryptocurrency with the highest traded volume in 2021.
Bitcoin is the Largest Cryptocurrency by Market Cap
Ethereum is second with $128 billion, followed by Tether (USDT) with $66 billion. In the below table we listed the top 10 largest cryptocurrencies by market cap:
| | | |
| --- | --- | --- |
| Position | Crypto Currency | Market Cap |
| 1 | Bitcoin (฿) | $370 billion |
| 2 | Ethereum (Ξ) | $128 billion |
| 3 | Tether (USDT) | $66 billion |
| 4 | US Dollar Coin (USDC) | $55 billion |
| 5 | Binance Coin (BNB) | $35 billion |
| 6 | Binance USD (BUSD) | $17 billion |
| 7 | XRP (XRP) | $15 billion |
| 8 | Cardano (₳) | $15 billion |
| 9 | Solana (SOL) | $11 billion |
Source: Forbes
66% of US Investors Have Never Used Cryptocurrencies
Some investors prefer to stay away from crypto, and this trend is likely to continue. For instance, 66% of US investors have never invested in crypto and declare no intention of doing so in the foreseeable future.
A Male Dominated Market
The crypto community has been largely male-dominated with 85.77% of engagement coming from men as opposed to only 14.23% from women. Males also report higher levels of Bitcoin awareness.
Top Countries by Number of ATMs
| | | |
| --- | --- | --- |
| Position | Country | Locations |
| 1 | USA | 34,110 |
| 2 | Canada | 2,528 |
| 3 | Spain | 240 |
| 4 | El Salvador | 212 |
| 5 | Poland | 191 |
| 6 | Hong Kong | 151 |
| 7 | Switzerland | 149 |
| 8 | Austria | 137 |
| 9 | Romania | 129 |
| 10 | Italy | 78 |
Source: Coin ATM Radar
Crypto ATMs Growth per Year
An increasing number of crypto ATMs have penetrated the market using both quite basic and also very complex machines. In January 2021, crypto ATMs amounted to 14,000. Judging by statistics, in the months to come, this number has gotten significantly bigger.
Environmental Effect
Bitcoin mining uses high amounts of energy as well as CO2 emissions. What are the effects on our environment and nature? What can we do to improve the bitcoin mining process while keeping the environment clean and sustainable?
Bitcoin Energy Consumption: Raising Awareness
On average, a single Bitcoin transaction uses 2077.54 kWh of electrical energy. This is approximately how much a regular US household consumes over 75.67 days.
 As the world becomes more aware of issues like sustainability, different kinds of indices have sprung up to measure the energy efficiency of Bitcoin. The reason is that this cryptocurrency uses machines with high energy consumption to power the proof-of-work algorithm behind it. Most of this energy comes from fossil fuels, therefore it needs to be carefully monitored.
Source: Digiconomist
The World's Top Bitcoin Mining Countries: USA Leads
Distribution of Bitcoin mining hashrate for January 2022, by country:
| | | |
| --- | --- | --- |
| Position | Country | Mining Hashrate |
| 1 | USA | 37,84% |
| 2 | China | 21,11% |
| 3 | Kazakhstan | 13.22% |
| 4 | Canada | 6,48% |
| 5 | Russia | 4,66% |
| 6 | Germany | 3,06% |
| 7 | Malaysia | 2,51% |
| 8 | Ireland | 1,97% |
| 9 | Iran | 0.12% |
| 10 | Other | 9.02% |
Source: Statista
Step in the Right Direction
According to the Bitcoin Mining Council Q3 2021 Report, 57% of all energy used to mine bitcoin comes from renewable resources (hydro, wind, solar, etc.)
The most popular renewable energy sources used worldwide are:
Solar energy
Wind energy
Hydro energy
Tidal energy
Geothermal energy
Biomass energy
Germany is the top country with most renewable energy resources, which makes it a great destination for sustainable and eco-friendly bitcoin mining.
57% of All Energy Used to Mine Bitcoin Comes From Renewable Resources
The Economics of Cryptocurrencies
What is the daily trading volume of Bitcoin or Ethereum? What is the impact of cryptocurrencies on the economy as a whole? Find the answers in our section about the economics of cryptocurrencies and discover more interesting facts.
Bitcoin Price History 2012-2021
Bitcoin Price rose with some 10,000% from 2015 till 2021. Although it looks like a great investment there have been some dips and crashes over the years. See a simplified chart of Bitcoin price to see the full picture from the very beginning.
Source: Bitcoin.com
Bitcoin Transaction Volumes
In 2020, 120+ million digital transactions were conducted using Bitcoin. As technology advances and more information appears about the benefits of using Bitcoin and its counterparts, people are becoming increasingly comfortable using cryptocurrencies.
Bitcoin Blockchain Size
Bitcoin record-keeping happens on the blockchain. It allows you to learn the cryptocurrency's transaction history and its current owner. Currently, the Bitcoin blockchain size is estimated at more than 4000 GB, but the number is growing by the day.
Ethereum Daily Transactions
Ethereum is Bitcoin's top competitor. In 2020, the cryptocurrency got 1 million daily transactions during Q4. In 2021, the tendency was for this number to increase. Bitcoin's daily transactions are significantly lower.
The Crypto Startup Dynamics
The crypto startup environment is very dynamic, with emerging companies having raised more than $20 billion in ICO (initial coin offering). The process has somewhat fluctuated between 2019 and 2020, however.
Blockchain for the Banks
Research shows that by the end of 2030, the banking sector is likely to save $27 billion by adopting blockchain, which equals a 50% cut in expenses. Typically, banks lose money to operations like payment processing, compliance, reconciliation, etc.
Exchange Locations
Crypto owners prefer to trade at well-known locations or in person. Approximately 80% of daily crypto trading takes place at the top 10 exchange locations, which are large enough to allow you to find good prices.
Estimating Blockchain's Worth: $394.6B in Revenue by 2028
The blockchain technology sector is expanding at an incredible pace. With its value almost doubling in 2021 to reach $5.88 billion, it is expected to rapidly increase in the years to follow, too.
Experts point to compound annual growth of 82.4% and $394.60 billion in revenue by 2028. With these projections in mind, it is safe to say that the crypto online gambling market is bound to boom shortly, too.
Crypto & iGaming
In this section we share some important statistics & facts about cryptocurrencies in the iGaming industry. Statistics show that fiat still largely dominates the market. However, crypto is rapidly closing in on regular currencies.
Global Crypto Gaming Ownership: Exploring the Trends
As the market develops, it is interesting to explore the global crypto gaming ownership volumes. The highest ownership rate belongs to the Asia-Pacific region, where 22.6 million online gamers hold different cryptocurrencies. Europe comes second with 5.9 million gamers, followed closely by the Middle East and Africa with 5.8 million. Latin America and North America come last with 4.3 million and 3.3 million respectively.
Source: Tripple-A
Global Crypto Gaming Revenue: APAC Leads the Way
Given the above fact, it is not hard to fathom that the Asia-Pacific region holds the highest global crypto gaming revenue of $157.3 million and holding a share of almost 50% of the total crypto gaming revenue worldwide.
The surprise comes from the second place, where North America stands with $80.3 million (25%). Europe is third with $70 million (19%), while Latin Americans possess $12.8 million (4%). The Middle East and Africa come last with 9.6 million (3%).
Top Regions by iGaming Revenue 2021
| | | | |
| --- | --- | --- | --- |
| Position | Region | Revenue (USD) | Percentage |
| 1 | Asia-Pacific | $157.3 million | 49% |
| 2 | North America | $80.3 million | 25% |
| 3 | Europe | $70 million | 19% |
| 4 | Latin America | $12.8 million | 4% |
| 5 | Middle East and Africa | 9.6 million | 3% |
Crypto Gaming Revenue by Platform: Mobile Games Top the Chart
The global crypto gaming platform revenue analysis shows that mobile games lead the way with $128.4 million (40%). Console games rank second with total revenue of $89.9 million (28%). Downloaded/boxed PC games come third at $67.4 million (21%), whereas tablet games display revenue of $28.9 million (9%). Browser PC games have the smallest portion of only $6.4 million (2%).
Source: Tripple-A
Bitcoin Wagers on the Rise: $4,5 Million in Bitcoin Betting since 2014
Bitcoin is here to stay, and placing wagers online is only one of its real-life uses. Many online casinos and gamblers alike have found benefits in crypto gambling, and the numbers show it. Since 2014, the share of Bitcoin betting has grown to $4.5 million. On average, 337 bets are placed per second in the world, and ₿3.09 are wagered per minute. As a result, there is an increasing number of bitcoin casinos exclusively accepting bitcoin or other crypto coins.
Source: SoftSwiss
How Big Is the Crypto Gambling Market?
As the overall crypto market totaled $2 trillion in 2021. The total crypto gambling market is valued at more than $250 million.
There are 6,000 cryptocurrencies available at present, the top 20 of which account for 90% of the market size. The reason is most online casinos only accept Bitcoin and a few of its most popular counterparts. However, this is likely to change soon.
Source: SoftSwiss
Top Crypto Gaming Software Studios
Many of the trusted gambling software providers have been quick to embrace the new trends and open up to crypto. As you will see by the comparison below, the brands that dominate the crypto wagering market slightly differ from the leaders in the overall share of bets. For instance, BGAMING crowns the crypto list, while it only ranks fourth in terms of the overall share of bets.
Top 5 Crypto gaming providers
Bgaming
Platipus
Evolution Gaming
Booming Games
BetSoft
Top 5 Gaming Providers Overall
Pragmatic Play
Evolution Gaming
Play N'Go
BGaming
EGT
Bitcoin Gambling Games Popularity
Bitcoin games or "Instant Games" are the hot trend in the last 5 years among crypto gamblers all over the world. These are simple games, requiring less skills than the traditional casino games and have instant outcomes.
Some of the most popular include bitcoin dice, crash games and mines. Given that all of these games are exclusively available online, we checked how often people search for these titles in Google. This gives an idea of how popular a particular game is.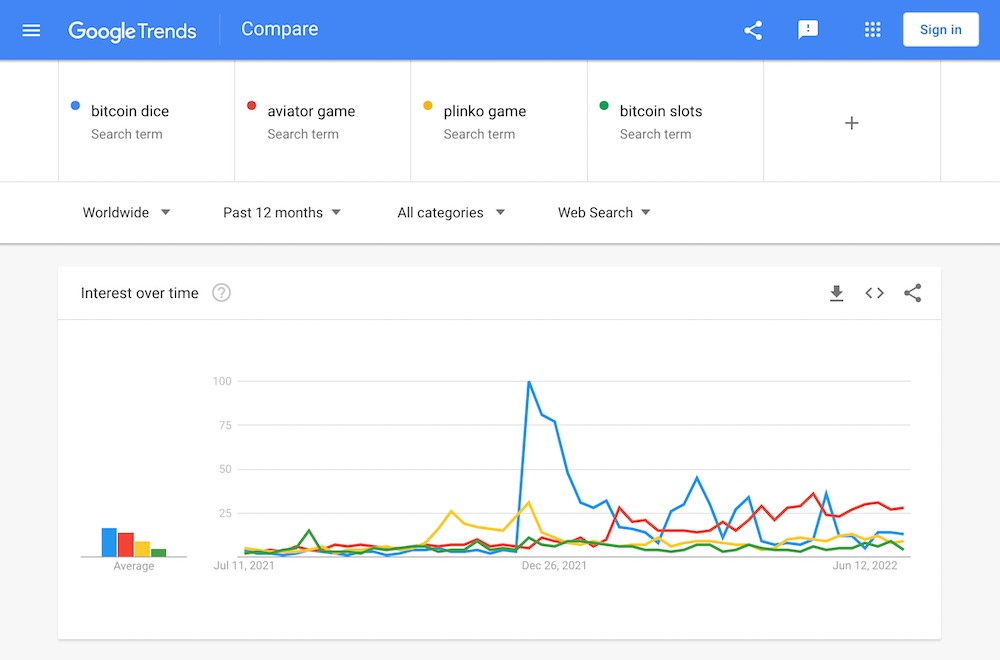 Source: Google Trends
The game with most worldwide searches between July 2021 and July 2022 is bitcoin dice. However, the Aviator game started gaining popularity and is now the top bitcoin game by search volume in Google. As you can see from the chart bitcoin slots is the less searched term following the "Plinko game", another turbo game classic.
Popularity by Region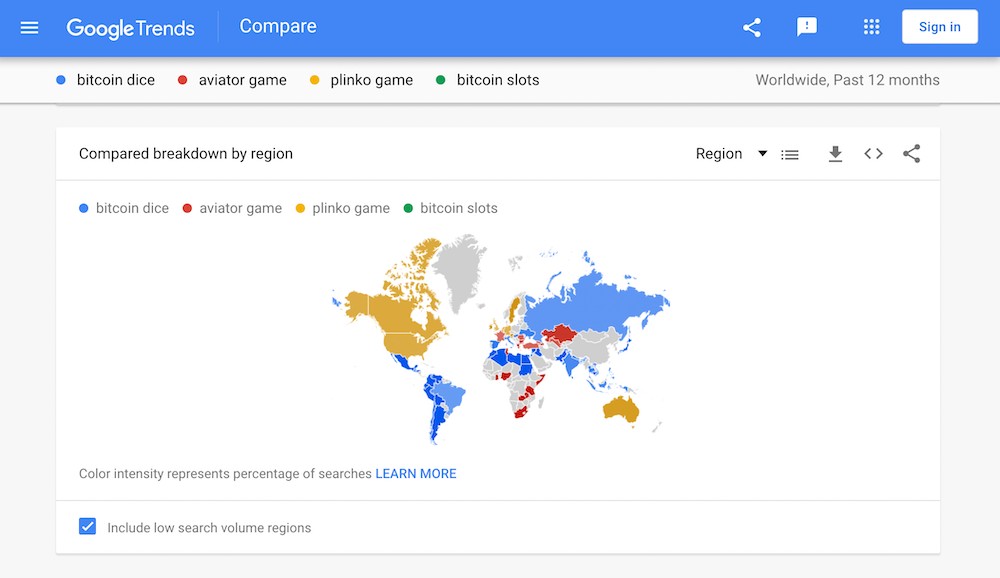 The bitcoin dice game is most popular in South America, North Africa and Russia. Plinko is the winner in North America and Australia, while the Aviator game top the searches in Europe and some African countries.
Top Crypto-friendly Games: Enjoy the Classics
The gaming market has become increasingly friendly to crypto players. The premier products include well-familiar titles. Pragmatic Play's Sweet Bonanza – a slot that usually tops the Most Popular section at online casinos – ranks first. Second and third come Play'n GO's Book of Dead and NoLimit City's Fire in the Hole. Elvis the Frog, BGAMING's fun slot is fourth, and the much-beloved Lightning Roulette by Evolution comes fifth.
Top 5 Games:
| | | |
| --- | --- | --- |
| Position | Game | Software Provider |
| 1 | Sweet Bonanza | Pragmatic Play |
| 2 | Book of Dead | Play'n Go |
| 3 | Fire in the Hole | Nolimit City |
| 4 | Elvis the Frog | BGAMING |
| 5 | Lightning Roulette | Evolution |
Total Bets 2021 Vs 2020: Substantial Growth
Gross Gaming Revenue (GGR) is one of the most important parameters to reflect the market situation. On a quarterly level, GGR has grown by 134.2% in 2021 compared to 2020. The increase was most significant during Q1 when it hit 164.6%. Q3 was also very dynamic with a growth of 149.8%. Q2 and Q4 were slightly more composed with 108.3% and 114.2% respectively.
Top Cryptos: Bitcoin Still Dominates
Data shows Bitcoin is still the king of online gambling with a massive share of 80.11%. Ethereum comes second with 9.88%, while Litecoin ranks third at 4.52%. Analyzing from a historic perspective, we see a recurring pattern in the order followed by the three most popular cryptocurrencies.
It is interesting to note that Dogecoin comes fourth at 2.48%. Tether and Bitcoin Cash remain at the bottom with 1.64% and 1.45% respectively.
Source: SoftSwiss
Fiat Vs Crypto: Rapidly Closing the Gap
It is interesting to note the growing tendency towards closing the gap in bets made in fiat currencies compared to those placed in crypto.
In 2021, crypto bets grew by 20.1 percentage points, whereas fiat went down by 23.6 percentage points. Thus, fiat ended up accounting for 64.6% of all wagers, while crypto stood at 35.4%. In contrast, in 2020, 88.2% of all bets were placed in fiat, leaving only 11.8% for crypto.
Source: SoftSwiss
Crypto Theft & Crime
As cryptocurrencies become more popular, incidents of theft increase. In 2020, the number of hacks and thefts reported was higher than in 2019. However, more crypto was stolen in 2019 because of a major theft that occurred.
Fraudulent ICOs
Theft is not always about hacker attacks. Sometimes it comes in the shape of a Ponzi scheme. Research shows that about 50 to 70% of initial coin offerings (ICOs) were created for fraudulent purposes.
Trends in Crypto Security
In terms of security, crypto criminal activity is expected to be up by approximately 600% by 2030. Meanwhile, cybercrime accident costs are estimated to go up to $5 trillion, which is an 800% increase since 2018.
Monero Is Often Stolen
Talking about theft, Monero is one of the cryptocurrencies that suffers the most. Approximately $65 million worth of Monero has been lost to theft if we calculate based on its current value.
Global Blockchain Wallets Usage
Recent studies show that approximately 200+ million people in the world use blockchain wallets. A blockchain wallet is used to store and encrypt your cryptocurrency. Encryption is especially important to protect your crypto assets from hacker attacks.
In conclusion
As you can observe from many of the trends described above, the future in front of blockchain and cryptocurrencies seems quite exciting. No doubt, the rise of decentralized technology will bring positive development to many industries.
However, we should remain conscious of any undesirable side effects like a potential increase in cybercrime and a growing carbon footprint. Nonetheless, every challenge brings along a fresh opportunity. Therefore, we are about to witness major shifts in the global business and economy that might lead to profoundly new ways to communicate, trade, and govern our assets.