Space XY by BGaming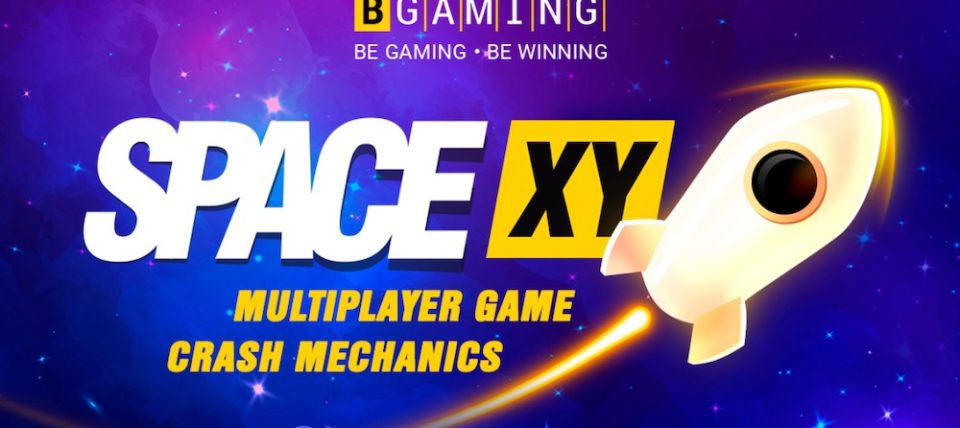 Play This Game for
Real Money
Game Facts
Software provider
BGAMING
Space XY Game Video Review
Watch this game video to learn how to play Space XY
Space XY Game Review
The first humans stared up at the sky with a desire to understand and conquer it. As human civilization advanced, many tried their luck at flying machines. After the commercial success of planes, humans did not settle for what they had achieved. Instead, they looked further up to the next frontier: space.
Space XY is a crypto crash game produced by BGaming. In it, you board a rocket and set off into outer space. Get as high as possible and bail before you lose the missile. The longer you wait, the better your reward will be. It is very similar to the Aviator game or JetX, so you can definitely check these out if you are looking for similar games.
How to Play?
Follow these steps to play Space XY.
Place Bet
Playing this release is hardly rocket science. Each step is basic and comes together to create a remarkably entertaining title. Every round of Space XY starts with a betting period. Players can place two simultaneous wagers by selecting how much they want to wager and pressing Place Bet. You can also use autoplay to repeat stakes you already played.
Bail Out
After betting closes, the rocket launches and starts climbing. The higher the rocket gets, the higher the multiplier becomes. When you exit the missile, the multiplier determines how much you win. You do not win anything if the rocket explodes before you jump out. That turns Space XY into a proverbial game of chicken. Do you escape early with a small prize or try to hold out for a big win?
RTP
The RTP for this release is 97%, which is about the average for crypto crash games. That means, on average, you can expect to win 97 of every 100 rounds played. Keep in mind RTP is a theoretical value. While true over a long period, luck can change your results in the short term, leading to you beating the odds.
Max Win
Your top prize playing Space XY is 10,000x your total stake. As with every jackpot, landing it requires a ton of luck. Cross your fingers and hope the odds are in your favour!
Space XY Features
There are a few features this game uses that make it even more enjoyable to play.
Multiple Bets
First is the option for multiple bets. This system is widely used in modern crash games and opens the door to the use of strategies.
Auto Bet
You can also take advantage of auto betting and auto cash out. Auto betting or autoplay repeats the previous wager you already made. You can set infinite autoplay, which will keep repeating wagers until you run out of money.
Auto Cash Out
Meanwhile, auto cash out allows you to withdraw your funds as soon as you get the needed multiplier. If you want to double your prizes, you can set this to 2x. The game will automatically cash you out as soon as the win multiplier hits 2x.
Advantages and Disadvantages
Every casino game has its upsides and downsides, and Space XY is no exception. If you plan to play this BGaming title, keep the following pros and cons in mind.
Pros
Excellent user interface
Multiple bets and auto cash out features
10,000x top prize
97% RTP
Cons
Can be difficult to score big wins
Visuals can be underwhelming at times
Infinite auto bet option encourages overspending
Winning Strategies
The goal of playing any casino game is eventually getting a win out of it. To that end, our experts compiled a few strategies you can use to try and beat the game. Ultimately it all comes down to chance: but you can give luck a little push using these strategies.
The one we use is playing two bets. The first has the majority of each wager and is set to cash out automatically when it wins the deposit back. The second is a smaller total bet and should be cashed out on larger multipliers to score big wins.
Do We Recommend Space XY?
Our overall impressions of this game are remarkably positive. It does not try to make massive changes to the formula. Instead, it delivers a fun title while adding a new theme and a mouthwatering top prize. With all these elements, Space XY was already set to succeed. However, BGaming kept adding more details to their game to make it even better.
Adding multiple bets, autoplay, and auto cash out helped this release reach its full potential. Because of that, we are more than happy to recommend playing this title. If you are looking for a fun new game to play, we wholeheartedly recommend checking Space XY out.
Players Favorite Space XY Casino
Start Playing today by following the "Play" Button below
Welcome bonus
150% up to €2000 Welcome Offer
Play