Mental Slot Free Play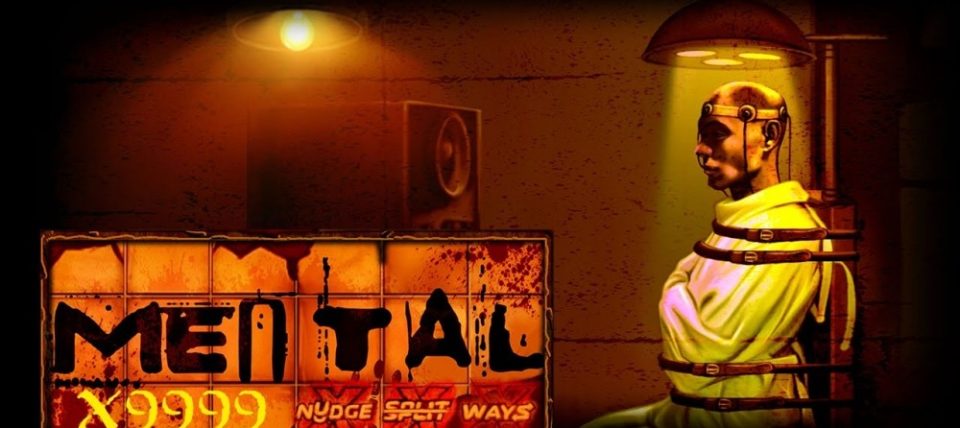 Play This Game for
Real Money
Game Facts
Software provider
Nolimit City
Best Casino to Play Mental Slot
Mental Slot Overview
The last place you expect to find big winnings is in a spooky asylum, although maybe some of the patients of Nolimit's slot game "Mental" may have delusions of grandeur.
In this slightly disturbing slot game with an interesting layout measuring five reels with the number of rows changing you find several intriguing features. Although nothing is more interesting than the design of this slot, which may have you wondering if the game's developers created this slot from their own padded room.
Mental Slot RTP, Volatility and Top Win
RTP
The people that feature on the Mental slot as patients will not be going crazy over the RTP for this slot, which sits at 96.08%, which is about average for most popular slot games.
This means over time across all its players the game should return $96.08 for every $100 wagered, but that is not a guarantee and there is still a risk when playing these types of games that you could just as easily lose money as people may win.
Volatility
In terms of pay-outs, Mental is a high volatility slot game, which means payments come fewer and far between, although you tend to get bigger payments when wins are triggered. You don't have to be locked in an asylum to work out that this is an aspect that will appeal to some players over others. Hopefully, the decision of whether to play or not won't get you locked up inside Mental's asylum.
Top Win
If the game wasn't already dark enough, it has a maximum win amount featuring the number of the devil within it with 66,666x your bet value available to win. In terms of how much individual symbols pay out, you can check our table below:
Mental Slot Winning Symbols
| | | | |
| --- | --- | --- | --- |
| Symbols | Match Three | Match Four | Match Five |
| Skeleton Hand | 0.1x | 0.5x | 1x |
| Lungs | 0.15x | 0.55x | 1.05x |
| Heart | 0.2x | 0.6x | 1.1x |
| Brain | 0.25x | 0.65x | 1.15x |
| Eye | 0.3x | 0.75x | 1.25x |
| Patient 5 | 0.4x | 0.9x | 1.5x |
| Patient 4 | 0.45x | 1x | 2x |
| Patient 3 | 0.5x | 1.1x | 2.5x |
| Patient 2 | 0.6x | 1.25x | 3.75x |
| Patient 1 | 0.75x | 1.5x | 5x |
How to play?
Winning on the Mental slot is a bit of a crazy one to understand because the number of win lines starts with a minimum of 108 lines, but different symbols can split in two and so the number of lines changes with each spin. Wins are as standard, triggered by landing three matching symbols on the reels from left to right. Wild symbols substitute for all other paying symbols.
The Bonus Features
Where do we start? There are so many features in Mental, with fire frames one of the first you'll notice.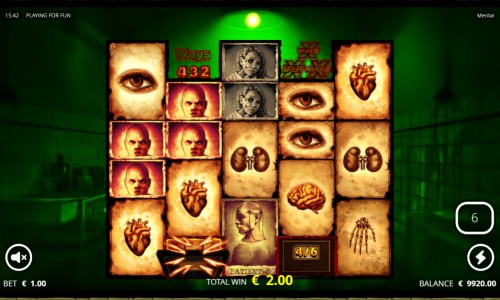 Enhanced Cells
During spins between 1-13 sections of the reel can become engulfed in flames. This will split them into two symbols to increase the number of pay lines.
Getting four and six fire frames will also unlock different sections at the bottom of reels two and four, revealing enhanced cells. Behind the closed doors can be a patient symbol, a dead patient symbol which can have multipliers attached ranging anywhere from 5x your bet value up to 9,999x if two or more appear, an xWays symbol that reveals three of the same symbols, a regular wild and an xNudge wild which nudges fully onto the reel and can increase game multipliers.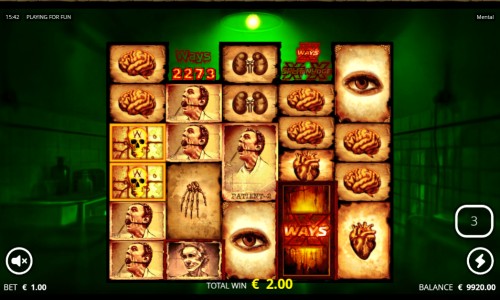 Spider Symbol
During the game, if a Spider symbol appears, this can mentally transform into xWays, xSplit, Dead Patient, Patient, or wild symbols.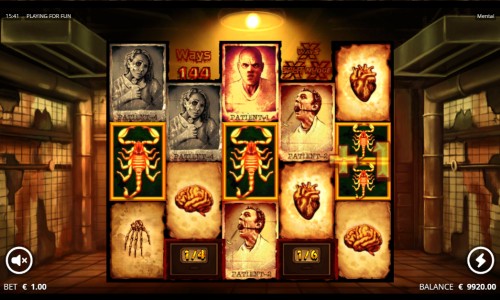 Free Spins
There are then three different free spins games that can be activated; autopsy freespins, lobotomy freespins, and mental freespins, all as disturbing as they sound. The game almost packs too many features into the game to stay sane while playing.
Graphics & Soundtrack
Taking inspiration from the likes of classic films such as the Silence of the Lambs is very clear in Mental, with a dark and dreary theme that has a few symbols based on mental patients and organs of the human body. The entire game is very dark, and the backing of symbols appears to be almost like stained office papers to suggest this is taking place in an old and decrepit asylum.
The music in the background also adds to the eeriness that this game creates. We rarely suggest a slot game could scare people, but this one could come close to doing just that for players of a nervous disposition.
In Conclusion
Mental is possibly one of the darkest slot games we've ever played, and we're not just talking about the game's color theme. It's not for the faint of heart, although a maximum win of 66,666x your bet value may be enough to convince some players to take a step into the asylum.
Best Casino with Mental Slot
Don't forget to claim the welcome bonus on sign-up