Fruit Disco Mega Stacks Slot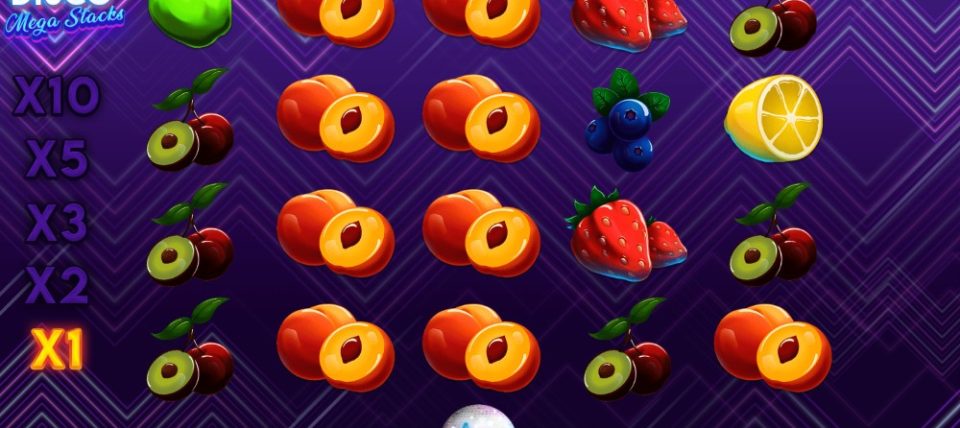 Play This Game for
Real Money
Game Facts
Software provider
Mascot Gaming
Best Casinos to Play Fruit Disco Mega Stacks Slot
Fruit Disco Mega Stacks Slot Overview
You'll be wanting to get more than your recommended daily fruit intake with Mascot Gaming's disco-themed Fruit Disco Mega Stacks slot game. In this review of the five-reel by four-row slot, we look at all it has to offer players including a quick guide on how to play. Will it be as sweet as the fruit on the reels? Let's take a look.
Fruit Disco Mega Stacks Slot RTP, Volatility & Top Win
RTP
RTP or Return-To-Player percentage is the system used to assess the risk of a slot game. It calculates the average expected return over time for every $100 wagered on the game. For Fruit Disco Mega Stacks the RTP is 95.42% which means over time, the game should payout $95.42 for every $100 wagered. However, this isn't a guarantee for each player, but a collective value for all those who play.
Volatility
The volatility of a slot indicates how much and how often a game pays out. Lower volatility slots pay out more often but with lower win amounts, whereas high volatility slots have bigger payouts but occur less often. Fruit Disco Mega Stacks is a medium volatility slot game meaning it has a nice balance of regular payouts with mixed win amounts of low and high values.
Top Win
The maximum possible win from a single spin in the Fruit Disco Mega Stacks base game is 4,500x your bet value. Achieving this requires landing the highest-paying symbols across all reels with the maximum multiplier. For a breakdown of how much each symbol pays out, check the table below:
Fruit Disco Mega Stacks Slot Winning Symbols
| | | | | |
| --- | --- | --- | --- | --- |
| Symbol | Match Two | Match Three | Match Four | Match Five |
| Plum | X | 0.1x | 0.25x | 1.25x |
| Blueberries | X | 0.1x | 0.25x | 1.25x |
| Blackberry | X | 0.15x | 0.5x | 2.5x |
| Strawberry | X | 0.15x | 0.5x | 2.5x |
| Peach | 0.05x | 0.25x | 1x | 5x |
| Orange | 0.05x | 0.25x | 1x | 5x |
| Lemon | 0.1x | 0.35x | 1.75x | 10x |
| Apple | 0.15x | 0.75x | 3.75x | 22.50x |
How to Play Fruit Disco Mega Stacks
The Fruit Disco Mega Stacks slot game is an easy one to get to grips with. After setting your bet value, click spin and hope that three or more lower-paying symbols or two or more higher-paying symbols land on the reels from left to right along the game's 20 win lines.
Wilds can appear and substitute for all other paying symbols in the game. But only the highest-paying win per line will be paid out.
What Features Does Fruit Disco Mega Stacks Offer?
There are several different features in this tribute to classic fruit slot games, the first being the stacked reels. With each spin, two consecutive reels are highlighted with a blue glow, and these two reels will be stacked with the same symbols. These can appear on different symbols with each spin.
The next key feature is the game's multiplier. For each consecutive win, a multiplier on the left side of the reels will slowly creep up. Your first win will always start at 1x, moving to 2x, 3x, 5x, and 10x if you manage to land four consecutive wins.
The final feature involves multiple scatter symbols appearing on the reels. If two land anywhere on the reels, the game will pay out 5x your bet value. If three appear anywhere on the reels, it pays out 25x your bet value.
Fruit Disco Mega Stacks Graphics & Soundtrack
If you're a fan of disco or the classic fruit machines that the Fruit Disco Mega Stacks slot is based on, you'll likely enjoy this game. The graphics, while paying tribute to times gone by, have been modified enough to make them fresh and appealing to players. The background has a mixture of blue and pink neon lines to add a disco vibe to the game.
However, what brings it to life is the game's soundtrack. Whilst it may not steal the thunder from the likes of the Bee Gees, it does well to capture the vibes of the disco era and helps bring the game to life with its sound effects which once again pay tribute to classic fruit machines.
To Sum It Up
If you don't like your slot games over-complicated with different bonus games and free spins features that have several different versions, Fruit Disco Mega Stacks is a slot for you. It keeps things incredibly simple, paying homage to both disco and the classic fruit machines of the time while modernizing it enough to keep it fresh and appealing.
Can you handle all the fruit this slot game has to throw at you? There is only one way to find out and that's to jump on Fruit Disco Mega Stacks and give it a spin.
Best Casino with Fruit Disco Mega Stacks Slot
Open an account now to grab amazing bonuses
Welcome bonus
125% up to 1 BTC Welcome Bonus
Play