Low Volatility Crypto Slots
Which bitcoin slot machines are low volatility? Learn how low volatility slots work and read a few tips critical for increasing your winning chances.
What are Low Volatility Slots
Slot casino games are by far the biggest game category among casino games. With so many releases, some differences are to be expected. One of the most significant differences between games lies in their volatility. The higher the volatility, the larger the jackpots become. However, the frequency of wins also decreases in turn.
Low variance crypto slots are made from the ground up for casual audiences and new players. These titles are generally a low-risk endeavor. Wins land often, but they cannot achieve any substantial rewards. On the plus side, being unlucky enough to get stuck in a losing streak is almost impossible.
Most of the time, low volatility slots have payouts up to 1,000x. Low variance releases can have many different RTPs, adding to the diversity of games. They will not change your life with huge wins. However, these titles are perfect for giving you endless hours of entertainment.
Best Low Volatility Slots
With so many bitcoin slots on offer, choosing the best one can be a challenge. Trying thousands of slots to find games worth playing can be entertaining but is far from ideal for newbies. Check out our list of the best low variance crypto slots below.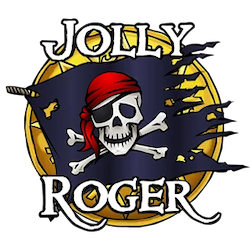 Jolly Roger
Pirates have been a mainstay of online casino games for some time now. They are also the central characters of Play'n GO's low volatility classic Jolly Roger. The seafaring scoundrels roam the seas, hunting for pieces of a map to collect their treasure. While the visuals are somewhat dated, they still succeed in looking remarkably attractive.
The game has a five-reel playing field with fifteen flexible paylines. Furthermore, this release has a ranging RTP, with the most rewarding version sitting at 97%. Available bonuses include 2x Wilds, the chest bonus, and the map bonus.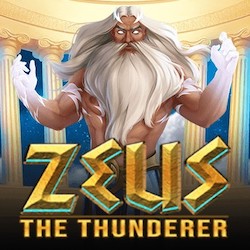 Zeus the Thunderer
The Greek pantheon of deities is a frequent guest in many online slots, including in Mascot Gaming's Zeus the Thunderer. The release features a gorgeous backdrop, with stunning Greek-style pillars floating above stormy clouds. The gods are the most prominent icons, joined by harps, pottery, and playing card royals. Animations are also beautiful.
You play this release on a five-reel board with twenty paylines we cannot toggle on or off. The RTP for this title is 95.3%. You can buy free spins or risk a winning spin to try and activate it. Alternatively, land three or more Scatters to manually trigger one of three free spins.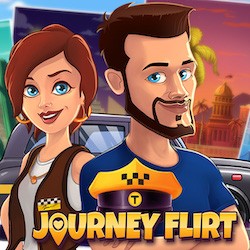 Journey Flirt
True love is a surprisingly rare find in crypto slots. However, BGaming has decided to remedy that with their romantic travel-themed game. Journey Flirt spans four cities, each with a distinct background image to differentiate itself. Symbol designs feature playing card royals and cabs from each of the locations the lovey-dovey couple visits.
You play this release on a five-reel board with 243 ways to win instead of traditional paylines. The RTP for this game is 96.6%, comfortably above average compared to most rivals. You can enjoy several bonuses: free spins, sticky and expanding Wilds, and win multipliers to boost payouts.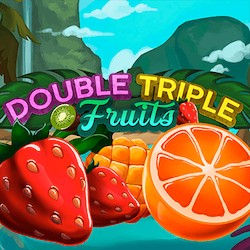 Double Triple Fruits
Mascot Gaming shows the talent of its art team as it undertakes a grand challenge: creating a modern twist on a classic slot theme. The result is apparent for all to see! The backdrop depicts an eye-catching tropical island with the warm sun brightening the day. Meanwhile, icon designs include different types of fruits and diamonds.
The game has a five-reel playing field and fifteen paylines you cannot toggle on or off. Additionally, it features an RTP of 95.23%. Bonuses include each symbol randomly doubling or tripling and a progressive win multiplier.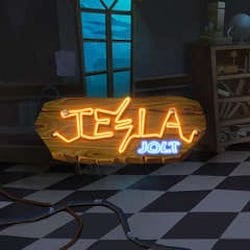 Tesla Jolt
Nolimit City takes us to the secret laboratory of the father of electricity, Nikola Tesla. Tesla Jolt displays a lab clad in darkness. Occasionally, the lightning outside will cause the giant orb to crackle with electricity, bathing the backdrop in a cool blue. Icon designs are all electricity-related, including the playing card royals made of wires.
You play this game on a five-reel board with twenty fixed paylines. The game's RTP is 96.61%, well ahead of most of its low-volatility competitors. Standout features include random icons transforming into Wilds and free spins with Charged Wilds and extra free spins.
Compare the Best Low Volatility Slots Casinos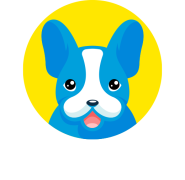 150% up to €2000 Welcome Offer
bnb

busd

btc

bch

ada

doge

eth

ltc

xrp

shib

sol

usdt

trx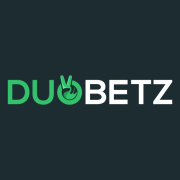 125% up to 1 BTC Welcome Bonus
bnb

busd

btc

bch

ada

doge

eth

ltc

neo

xrp

shib

sol

usdt

trx

120% up to €2500 Welcome Bonus
bnb

busd

btc

bch

ada

doge

eth

ltc

xrp

shib

sol

usdt

trx
Low Volatility vs. High Volatility Slots
Comparing high and low variance crypto slots can be challenging because they are very different. As mentioned, low volatility games offer frequent wins with small top prizes. Meanwhile, high variance releases have huge jackpots but low win frequency. Which option you pick mostly comes down to how risk-averse you are.
While hit frequency varies between these two slot types, RTP affects them equally. Both high and low variance crypto slots have various RTPs, usually floating around the 96% mark. With highly volatile slot games, you achieve the theoretical return to player by sticking around long-term and landing big wins. Meanwhile, the frequent wins of low variance slots make achieving that RTP easier.
Low Volatility Crypto Slots Advantages over Regular Slots
High RTPs: With plenty of competition, many low volatility bitcoin slots appeal to players by ramping up their RTPs. Though some exceptions exist, the best releases feature RTPs higher than 96%.
Fantastic Visuals: New low variance games use thrilling themes and superb graphics to draw your attention. It adds flavor to each title beyond what features and top prizes it offers.
Exciting Bonuses: Crypto slots with low volatility feature both classic and modern special features. These include cascading reels, free spins, multiplier Wilds, Megaways, and more.
Built by Reliable Slot Developers: Many software providers launched their low variance crypto slots over the years. As such, players can enjoy releases made by established developers with excellent reputations.
High Hit Frequency: One of the upsides of low volatility online slots lies in their frequent wins. Choosing these games ensures you will not wait long to score small prizes and features.
Common Strategies to Win at Low Volatility Crypto Slots
It is important to remember that there is no guaranteed strategy to win big playing any type of crypto slot. Part of the fun of playing video slots is their randomness. However, you can slightly skew the odds in your favor by ensuring the most advantageous math model.
Aim for High RTPs
RTP values are one of the most important things to check before you start playing. That is true for all games, not just low volatility crypto slots. The random nature of slot games means you cannot control when the wins come. No amount of player skill can affect the outcome of a round. Because of that, the only way to give yourself better odds is to choose the highest RTP possible and cross your fingers.
The high RTP and low variance combination are ideal for new players. They can produce some fun wins and familiarize you with slots in a low-risk environment.
Bankroll Management is Vital
One of the first things you should do before you start playing slots is set your budget. Bankroll management will keep you from getting carried away as you play your favorite low volatility crypto slots. Choose a daily amount that fits your total budget, and never play more than that per day. With low variance video slots, you should set winning limits to 10-20% of your bankroll.
You should stop for the day and cash out your prizes if you hit your winning limit. That way, you will not feel tempted to bet more than your planned budget.
Best Low Volatility Slots Casinos
Sign Up Today to Enjoy a Vast Range of Slots!